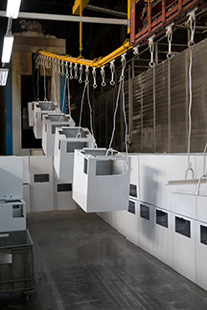 Choosing a Conveyor
IntelliFinishing, 9 years ago
4
5 min

read
12153
Conveyors for Finishing Systems
The selection of a conveyor for your powder coating system or liquid paint system at your manufacturing plant should be based on the features and benefits of each of the conveyors, part and process requirements, as well as your business goals.
There are three types of automated overhead conveyors typically used in finishing systems:
Monorail conveyors
Power and Free conveyors
IntelliFinishing conveyors
The layout should be configured to move parts from the loading point in the fabrication area through the finishing system to the unloading point in the assembly or shipping area. The goal is to minimize wasted movement, damage to the parts and personnel while providing the desired finished quality.
Monorail Conveyor Description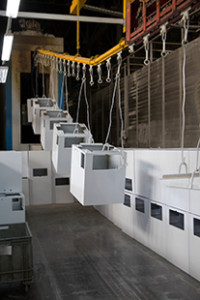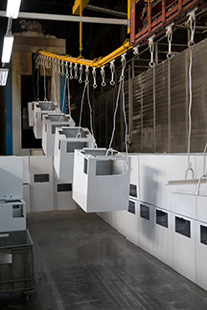 Overhead monorail conveyors have the load-carrying and the drive functions combined in one element—the endless chain. The chain is guided by a rail system based on either an I-beam or an enclosed track. A take-up unit ensures that the chain is pulled tight as it leaves the drive unit. A caterpillar drive or sprocket drives the chain. Parts are suspended from the chain by special attachments or load bars. This conveyor can follow only one path. No other paths or spurs for masking, maintenance, labeling, loading or unloading are typically part of a monorail conveyor system.
Advantages: simple, efficient, low initial cost, best used for a single type of part and process
Disadvantages: no layout flexibility for part variety or process changes, any line stop or breakdown stops entire conveyor, no ability to stop for a process (masking, touch-up, labeling) without stopping entire conveyor, chain maintenance, take-up unit adjustment and monitoring, lubrication can cause issues with the quality of the parts, noisy
Video:
Monorail Conveyor
Power and Free Conveyor Description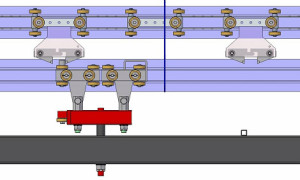 Overhead power and free conveyors are two-rail systems. The trolley is the load-carrying element and is located below the chain. The trolleys use the lower "free rail" and the chains are in the upper "power rail." Pusher dogs establish the connection between chain and trolley and can be engaged (dogging and de-dogging) and disengaged as needed. The "free rail" can be equipped with switches, lifting stations or stops to allow the trolleys to follow different paths, or be lifted or lowered, stopped or moved at different speeds throughout the system. The entire conveyor system is PLC-controlled.
Advantages: flexible layouts for variety of parts and processes, stop and start, multiple speeds, reduction in personnel since parts may be stopped, trolleys can be buffered, part tracking, integration to ERP, process recipes
Disadvantages: higher initial cost than monorail conveyor, any line stops or breakdowns stop entire conveyor, more layout options require more chain, return chain, speed changes require multiple chains and drive motors, chain maintenance, take-up unit adjustment and monitoring, lubrication can cause quality problems, part swing since there is no accelerate or decelerate, no ability to reverse direction reduces layout options, no ability to reverse when there are problems requires complete chain to be stopped, noisy
Videos:
Dog Magic Chain Conveyor (Daifuku North America)
Power & Free Conveyors (Daifuku Webb)

IntelliFinishing Conveyor Description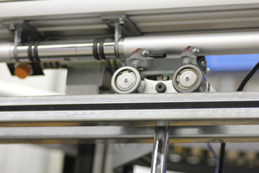 The IntelliFinishing conveyor provides even greater flexibility than power and free because the movement of the trolley is performed with a spinning tube by a small motor. Each section or zone of an IntelliFinishing conveyor may be independently controlled with a variable frequency drive (VFD) and the entire system is PLC-controlled. Data handling and smart controls with recipes for a variety of parts provide even greater flexibility and automation. With "no chain", driving the system, many of the issues like maintenance, noise, chain jams, take-up problems, lubrication ruining finished parts, de-dogging, floor space for return chain, etc. are not an issue for an IntelliFinishing automated finishing system. The trolley (propelled by the spinning tube) moves forward and reverse which provides more layout options and decreases production stoppage and downtime when compared to power and free conveyor system.
Advantages: flexible layouts for a variety of parts and processes, stop and start, multiple speeds, can stop individual motor sections independent of each other allowing remainder of conveyor system to run, reduction in personnel since parts may be stopped, trolleys can be buffered, part tracking, integration to ERP, process recipes, accelerate, decelerate, reverse, minimal maintenance and no chain lubrication, reduction in floor space, lower energy and resources since processes run only when a part is present, expandable, modular and moveable, more adaptable for lean manufacturing
Disadvantages: higher initial cost than monorail conveyor, more options may cause increase in costs because of drives and motors, limitations on inclines and declines, larger elevation changes require lift sections
Videos:
IntelliFinishing System Overview
IntelliFinishing Shuttle for Large Parts
IntelliFinishing Paint System at Raytheon
Advantages of Overhead Conveyors
Monorail

simple
efficient
low initial cost
best for single part/process

Power & Free

flexible layouts
stop & start
multiple speeds
buffering
part tracking
integration to ERP
process recipes

IntelliFinishing
Disadvantages of Overhead Conveyors
Monorail

no layout flexibility
chain maintenance
take-up adjustment
lubrication
noisy

Power & Free

higher initial cost (vs. monorail)
chain maintenance
take-up adjustment
lubrication
noisy
more layout options require more chain
return chain
part swing

IntelliFinishing

higher initial cost (vs. monorail)
limitation on incline & decline
Related posts