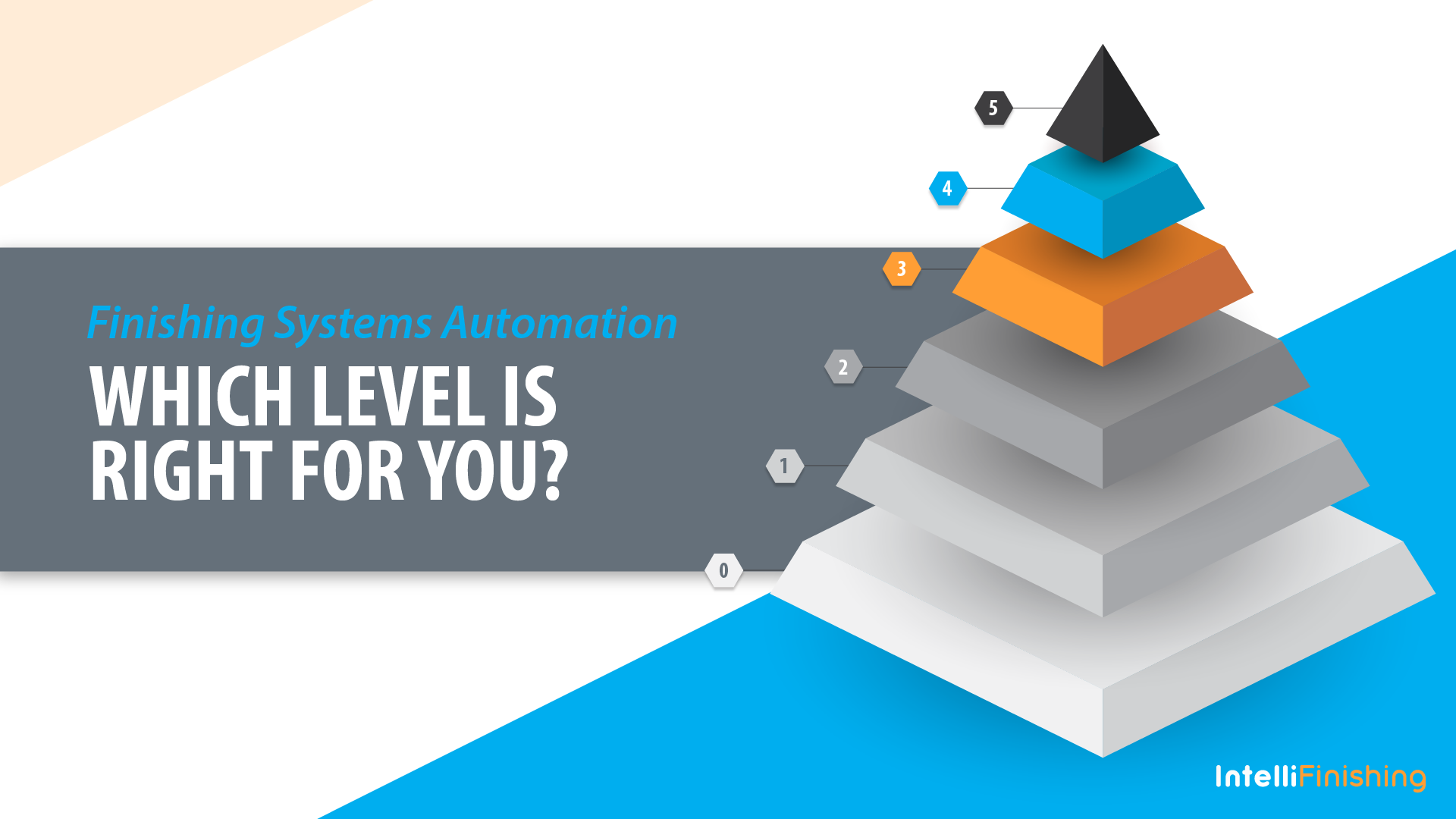 Finishing Systems Automation: Which Level Is Right for You?
IntelliFinishing, 4 years ago
0
7 min

read
3946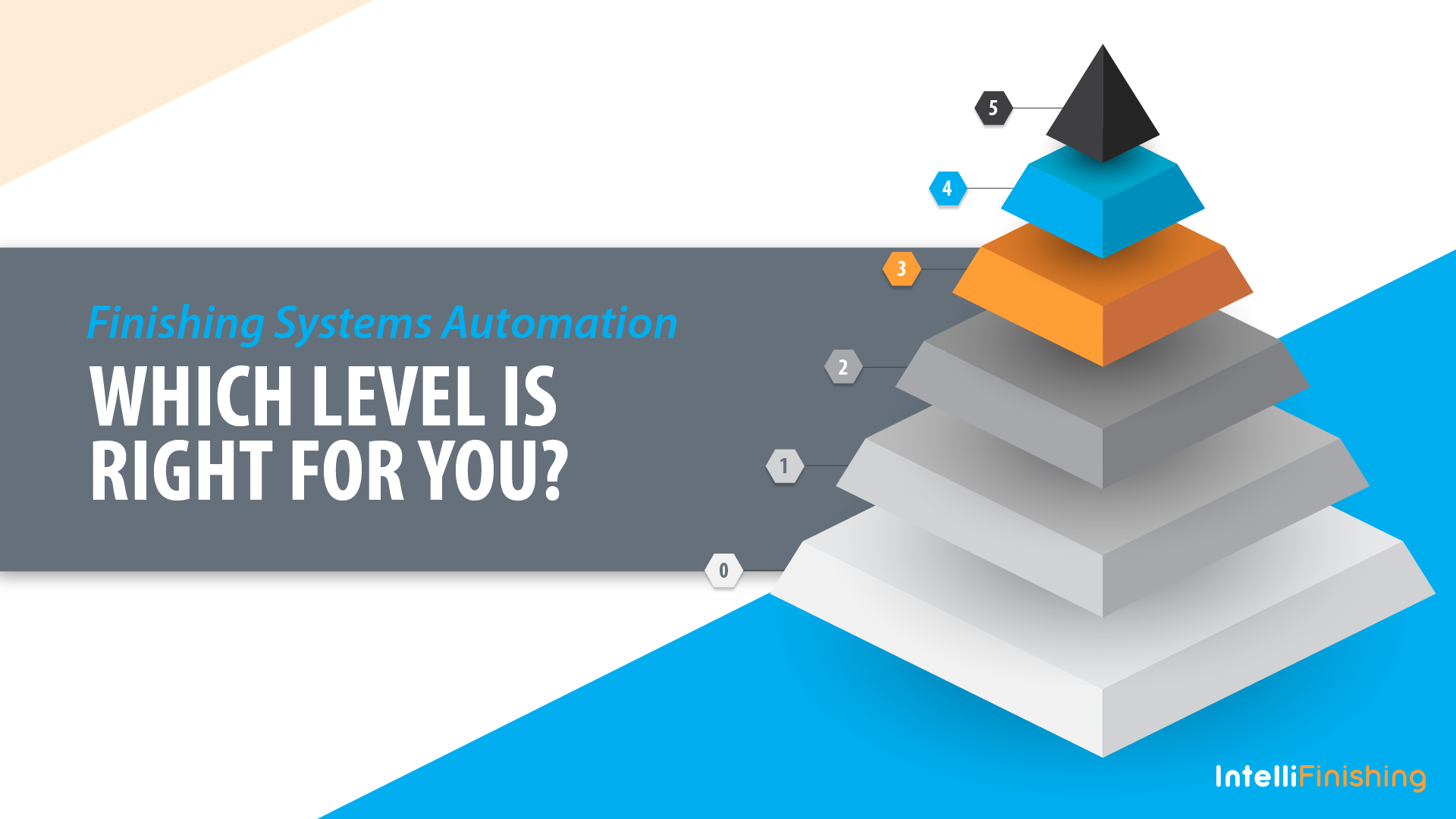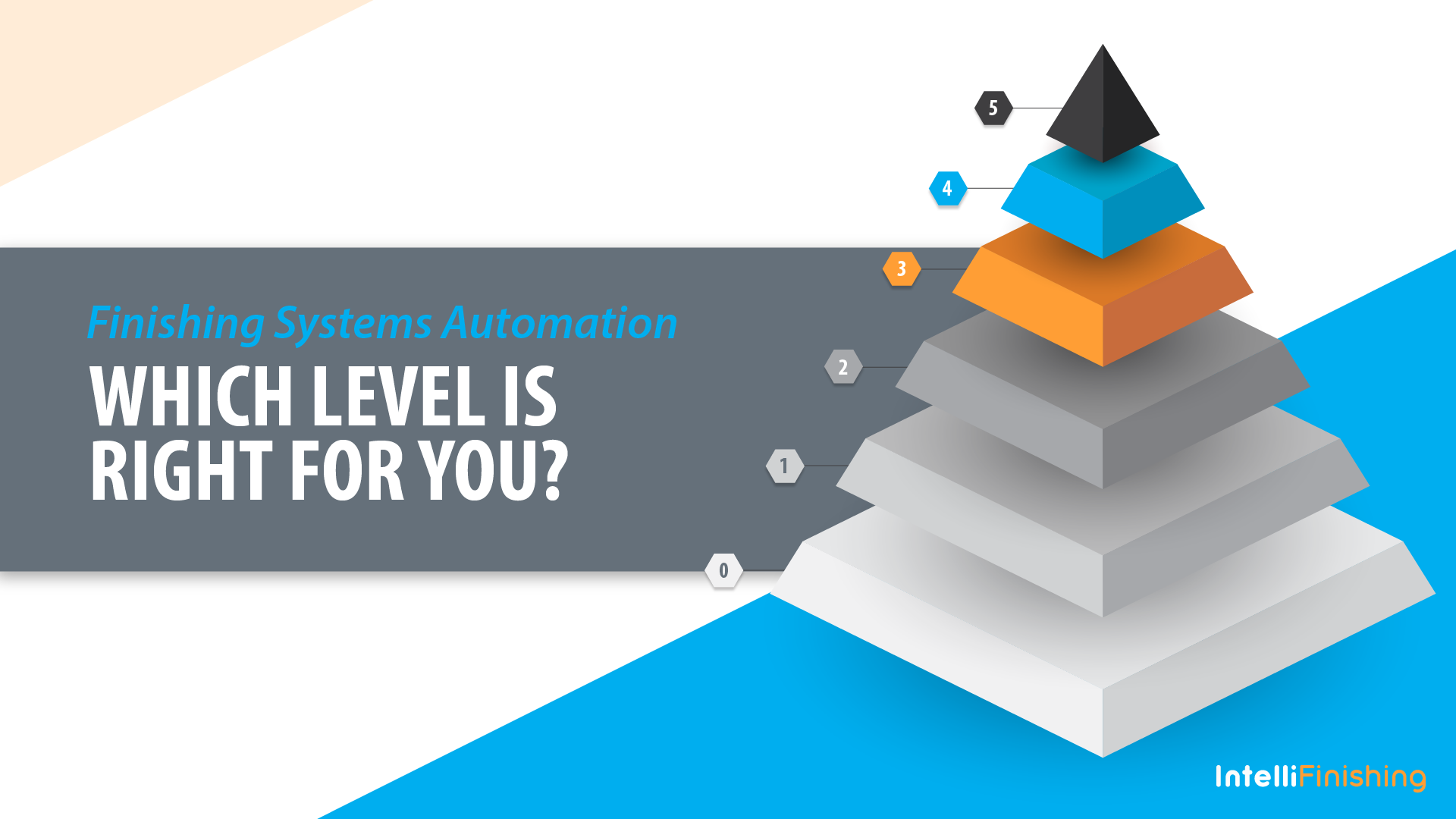 Automation is an integral part of any manufacturing facility, making operations smoother and more cost effective. Increasingly, next-generation finishing systems are expanding automation capabilities, allowing for efficiency, flexibility, and scalability in correlation to an operation's requirements. In fact, there are up to five levels of automation that you can achieve in terms of historical, existing, and future systems, including the Internet of Things (IoT) devices.
Let's look at each level of automation to dive deeper into these processes.
Levels of Automation for Finishing System
The levels of automation follow a chronological path; however, older technologies are still important today. Here are the different levels:
0-Hardwired Control
At this level, there is really very little automation, requiring almost complete operator intervention. Many conveyorized finishing systems still operate at a hardwired level of control. These include some new systems, but also, many existing systems that may be years if not decades old. These systems tend to lack flexibility and the ability to adapt, but are very robust and durable.
1-Mimic Panel
At this level, there is limited automation, and most electricians would be able to troubleshoot an issue should one occur. This level still requires a lot of operator intervention and can be costly to design and build. In fact, the use of mimic panels for automated finishing systems is quite uncommon.
2-Touch Screen Hardware Terminal
At level two, you will be able to automate most processes or simple systems using basic PLC (Programmable Logic Controllers) control systems. Replacing relays with PLCs adds flexibility (easier to make changes) and enhanced reliability in a smaller package, providing increased functionality while reducing the overall cost to design and build.
With simplified computer screen operator features, electricians trained on the equipment would be able to troubleshoot many issues. However, specialized controls programmers/engineers may be required to set up or change the PLC programming. Typically associated with the control of process items like washes and ovens, this level is very prevalent among most existing finishing systems. Some Power and Free conveyor systems are also controlled by the PLC and HMI set up.
3-PC-Based (HMIs)
With PC-level computing and operation functionality, automation opportunity increases here, including data collection and storage capabilities. Further, at this level, the integration of smart automation is possible for tasks like recipe control. There is an added expense in maintaining automation at this level due to more sophisticated control programming. However, efficiencies are gained due to simpler operation, more flexible part processing, increased reporting, and a significant reduction in manual operation.
4-Database/Web-Based
While not common in most finishing systems as of yet, many companies are moving to level 4 automation for other areas of their industrial facility—especially larger OEMs. At this level, companies are leveraging the newest software capabilities to connect the plant floor to the boardroom suite. This level starts to unite traditional Operational Technology (OT) with Informational Technology (IT). Often, companies initiate level 4 by standardizing system and locational OT processes around a unifying industrial software solution. There are fewer software programs to maintain, but software modification or unforeseen problems will necessitate the services of expert technicians and programmers.
These systems are designed to collect and access data as well as to be deployed over multiple processes or facilities for consistency, quality control, and benchmarking/data analysis. The base capabilities of some software platforms at this level can include reporting and system operation to unlimited operator terminals, the ability to handle unlimited data points (tags), and connection to an unlimited number of other software databases such as ERPs, MES, etc.
5-Fully Integrated Robotic Systems:
This level offers robotic automation for processes and conveyance.
Robotic use implies the minimization of operator engagement. Robots are often deployed in the paint booth itself for both liquid and powder systems, but they are also used to load parts on to or off of finishing systems. Typically, articulating arm robots are used for these tasks. However, reciprocating spray systems in booths, washes that adjust to part dimensions, blow off tunnels that focus in tightly on parts based on their geometry, as well as other aspects of automated systems are also forms of robotics.
To make changes or troubleshoot robots, a programmer or someone trained in the robot's specific controlling software is usually necessary. Robots can also be controlled in conjunction with the entire finish system HMI control as part of the recipe control. The system can also collect data on the robot's performance. And with software control, the robot operation can be replicated across multiple applications, processes or locations.
Considerations When Choosing Your Level of Automation
To discern what level of automation is right for your plant, there are several considerations to ponder. What is most important in your finishing processes?
Better utilization of employees?
Improved efficiency of people and equipment?
Faster turn on finishing products?
Safety?
Energy savings?
Enhanced finish management and quality control?
Improved system flexibility to coat a wider assortment of different parts and materials?
Increased overall visibility of operations for managers and executives?
Preventive maintenance at the right time to significantly reduce unplanned downtime?
You should also look at historical operational data. Decisions are often driven by reliability, the integration of safety features, product rates, capacity expansiveness, the level of operator intervention that will work best, remote connection for data and support, as well as the possible integration of third-party equipment.
The level of automation must also align with the variety of pieces being finished. With increased part complexity comes the need for a highly flexible finishing system. In these situations, higher levels of automation and versatile recipe control make the most sense.
Cost is also an important consideration. While automation initially represents significant outlay, it offers rapid ROI based on lower operational expenses and improved quality. However, there are some "hidden costs" related to automation. These include the need for programming and employees skilled in the respective software, downtime due to normal computer vulnerabilities, increased demand for back-up of system data and redundancy, and operator training. Ultimately, having a programmer to keep the software running smoothly should help to save on troubleshooting or expensive outsourced programmers. Conversely, with higher levels of automation software, predictive maintenance is possible so there should be less overall unplanned system downtime.
The Future of Automation of Finishing Systems
With many impactful technologies on the horizon, the future of finishing systems automation will, of course, continue to change. These innovations include:
Smart sensors and devices that make decisions independent of the PLC
Artificial intelligence (AI) that will enable machine learning and decision making
Augmented reality (AR) that will empower smartphones and other devices to produce 3-D or holographic images for training and instruction
Emulation software to mimic operations in near real-world scenarios, much like video games
And more!
These modern advancements will generate even more data to be stored and shared, allowing operators to make better decisions that improve the efficiency and effectiveness of finishing systems. To some extent, it will also require even greater abilities for data managers to consolidate data, report metrics in impactful ways, and employ even more sophisticated system analysis and diagnostics.
Elevate Your Finishing System
IntelliFinishing is a complete finishing systems provider that combines smart technology with our revolutionary modular conveyor for the most flexible finishing system available. This fusion of advanced engineering and progressive technology allows individual sections of the conveyor to move independently in both speed and direction, as well as to control each process via one unifying operational software that allows for per carrier recipe flexibility. A variety of manufacturers use our systems for a best-in-class finishing process. Experience it today by watching the system in action.
Related posts