The Advantages of Using Robots in Finishing with an IntelliFinishing System
IntelliFinishing, 2 years ago
0
4 min

read
1537
IntelliFinishing is a complete finishing systems provider of automated powder coating and liquid paint systems that offers several unique features and benefits. The number one benefit of IntelliFinishing Systems is that they can paint a much wider range of products than traditional chain-based finishing systems. However, they can also provide unique benefits if integrating robots into the finishing process.
By integrating robots into your paint system, you can increase the quality of your finishes, reduce labor, improve safety from hazardous painting environments, reduce waste material, and increase speed, productivity, and system uptime. Robots are most often used in applying finishes, but they could also be used for loading, unloading, and other processes.
One of our customers, Anthony Wasson, Manufacturing Engineer at Hyster-Yale, explains that they have been using robots in fabrication and welding for quite a while; however, for their recently installed IntelliFinishing system, they used robots to apply a finished powder coating on their forklift parts for the first time.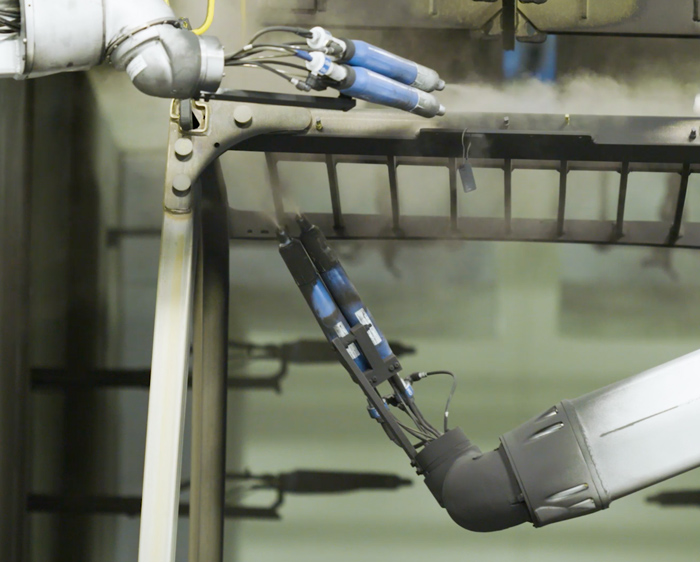 "Automating the coating process provides many benefits such as reduced labor, consistent quality, improved throughput, control over powder usage, and less waste." Although, using robots sometimes presents challenges and for Hyster-Yale their biggest hurdle is part programming. "At this plant, we produce a wide array of products so many of the components we are powder-coating have many variants. Programming each specific robot path takes time and requires individuals with a very special skill set," explains Wasson.
"Even though you can do offline programming, you still need to verify and fine-tune your programming with physical parts." Luckily, with their IntelliFinishing system, moving carriers in reverse is extremely simple and can be done by one person.
"Our typical process starts with a roughed-in of the program that is completed off-line, next we step through the program with a physical part in teach mode, then run the part in full speed mode without spraying powder, and finally run the part in production mode and apply the coating. The start of each step requires you to move the carrier back to the beginning position. Doing this same task with a power & free conveyor would require much more effort and multiple people. With the IntelliFinishing system we can back up the part to just prior to the booth as often as we want since the carrier can go either direction. You cannot back up with chain conveyors.
Also, with the part continuously moving through the application window, programming requires you to advance the part to reach designated planes. The conveyor then needs to tell the robot when it is clear to move to the next set of points."
"This 'stop & go' feature of the IntelliFinishing conveyor can be controlled for only that section of conveyor and in very precise increments. Whereas a conventual conveyor system would require turning the chain drive on and off which would not be as controlled and could impact other parts of the system."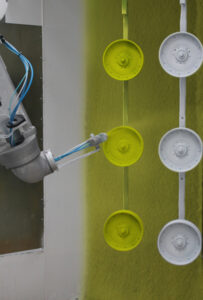 Another customer, Bret Albers, Owner of Albers Finishing & Solutions, recalled their experience with using robots for their liquid painting system. He explains the biggest benefits of using robots are the consistent quality and quicker throughput, "The end result is minimal time in the booth without sacrificing finish quality." Additionally, he explains that the IntelliFinishing system integrates extremely well with the robotics, which makes it easier to operate, control, and visually see what's going on with the flight bars.
Like Wasson, Albers also recalls the biggest challenge of using robots in finishing is programming time and testing of new products. Regardless, however, the consistency the robots provide is unmatched and when the expected volume of similar parts is worth the programming time, the outcome is higher quality finishes with less cost per part and in less time and labor.
We have also installed IntelliFinishing systems that use robots or robotic machines for loading, unloading, and in other finishing processes. Using a friction-tube conveyor allows for carriers to literally "stop on a dime" or travel forward and backward with a consistency that is very useful when integrating robots that do any sort of repetitive activity.
If you'd like to learn more about having a new finishing system using robotic application of powder or liquid paint, contact John Claman at jclaman@intellifinishing.com, 785-309-0356, or check out our videos of the Hyster-Yale System Video or the Albers Finishing Solutions & System Video or view all videos.
Related posts