Reduce Labor Costs in your Paint System
Manufacturers are constantly looking for ways to reduce labor costs while maintaining quality and throughput.  In some cases, an IntelliFinishing system reduces total cycle time, number of operators and overhead costs.
One IntelliFinishing Customer Reduced Labor Costs by Reducing 3 Shifts to 1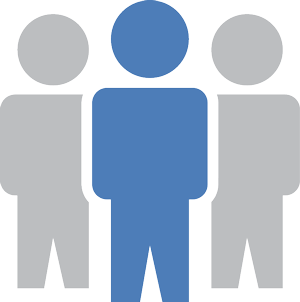 By installing an IntelliFinishing complete finishing system one of our customer's was able to reduce 3 shifts to 1 shift in their wet paint system that formerly used an overhead monorail conveyor. Not only did they reduce labor costs, they also have lower overhead costs with their new, efficient paint system.
Due to the efficiency and lean capabilities of an IntelliFinishing paint system for manufacturers, total cycle time was cut in half at this facility.
Labor costs were also reduced by minimizing production gaps, or empty hooks, meaning employees aren't waiting for parts or waiting for production to resume.
Reduce Overhead Labor Costs
Frequently, direct labor costs are reviewed when determining Return on Investment or Total Cost of Ownership; however, overhead costs are sometimes more difficult to include in the analysis. Overhead costs can be attributed to a multitude of things in the workplace including:
Injuries
Turnover
Training
Absenteeism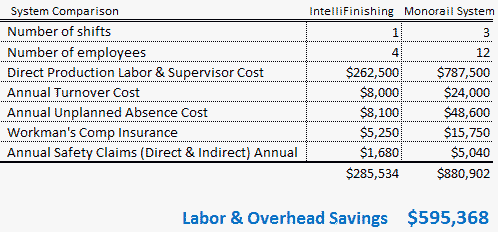 A section of the Total Cost of Ownership analysis for a company that installed an IntelliFinishing system is shown here. Additionally, they recognized other savings by reducing their chemical, paint, and energy costs, while increasing capacity.
In summary, reducing the labor cost and relevant overhead cost saved them $595,000 after installing an IntelliFinishing paint system. 
Would you like a spreadsheet that analyzes the Total Cost of Ownership for a powder coating or wet paint system, using the values referenced below? If so, contact us with your request and we will send you the file. 
Injuries
Typically, it is simple to track the costs that are directly related to the injury, like doctor visits or prescriptions. The indirect costs related to an injury generally accumulate to three to four times the direct cost of the injury.
According to the U.S. Bureau of Labor Statistics, musculoskeletal disorders (MSDs) accounted for 32% of all injury and illness cases in 2014. Nursing assistants, laborers and freight, stock and material movers incurred the highest number of MSD cases in 2014. 
The average back injury (sprain/strain) can cost more than $10,000 in direct costs (NSC Statistics) and anywhere from $30,000 up to $100,000 in overhead costs.

This online calculator is a great resource for calculating overhead cost per injury and the revenue required to offset the loss.

Turnover
Most companies struggle with turnover. Do you know how much turnover actually costs your company? 
The Center for American Progress took 30 case studies taken from the 11 most relevant research papers on the costs of employee turnover and discovered it costs businesses about one-fifth of a worker's salary to replace that worker if they leave. For businesses experiencing high levels of turnover, this can add up to significant costs.

This online turnover calculator from Drake International can aid you in getting a general idea of what turnover costs are in your particular situation, however, it is not all-inclusive. Hidden costs exist, including increases in unemployment insurance contributions, costs to process exit paperwork for the departing employee and the additional staffing costs to cover the vacant position until it is filled (and the resources used to fill the position). 
Training
Along with turnover, training is an overhead cost that increases as your number of employees grows. When calculating the training-cost-per-employee it is essential to identify the specific costs involved including:
development costs (e.g., salaries and benefits of personnel, equipment)

direct implementation costs (e.g., training materials, technology costs, facilities, travel, equipment, instructor's salary and benefits)

indirect implementation costs (e.g., overhead, general and administrative)

compensation for participants

lost productivity or costs of "backfilling" positions during training
Companies commit to training for various reasons, including operational efficiency, improving product quality and reducing errors. Capturing the training cost per employee is only the initial step in quantifying the value of the training. HR professionals must stay in contact with department heads to gauge the effects of improved performance and evaluate the return on investment of training.
Absenteeism
Unplanned absences (otherwise known as the Bottom-Line Killer) and PTO can become dangerously costly. However, few managers really comprehend the magnitude of the problem at their company. According to a study by Circadian, unscheduled absenteeism is a chronic problem for U.S. employers, CONSERVATIVELY costing $3,600 per hourly employee per year, and $2,650 per salaried employee per year.

Whether you currently track scheduled/unscheduled or partial shift absences, know that typical unscheduled absenteeism rates range from 5% to 10% at any given time in the average hourly workplace causing a loss in productivity, increased overtime pay or higher rates of pay. 
Workers' Compensation Insurance
Workers' Compensation Insurance varies by state. Insurance Journal  provides a list of state rankings for premiums. The 2014 median value of workers' comp premiums paid was $1.85 per $100 of payroll, with a range of $.88 in North Dakota to a high of $3.48 in California.