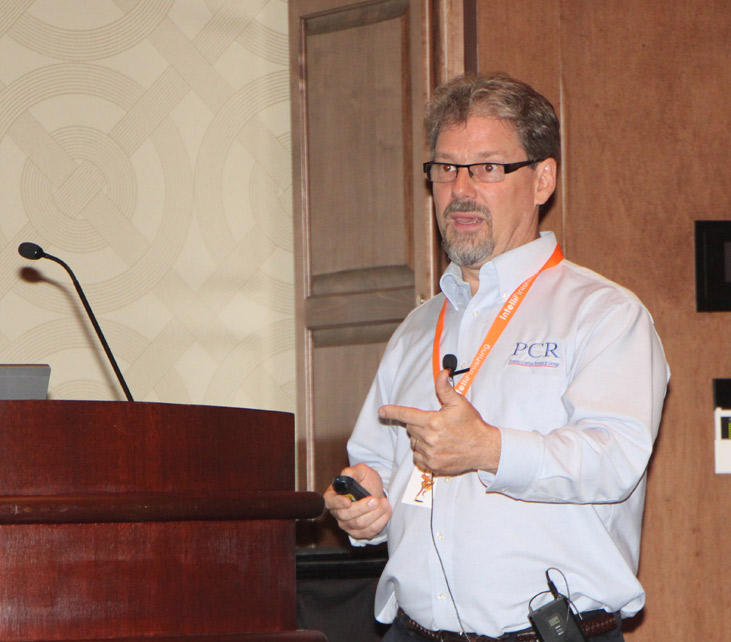 Midwest Coating Seminar 2014 Review
IntelliFinishing, 9 years ago
1
6 min

read
2549
Midwest Coating Seminar 2014
Hard Rock Hotel and Casino
August 21, 2014
IntelliFinishing hosted our annual Midwest Coating Seminar in Tulsa, Oklahoma at the Hard Rock Hotel and Casino. We had a great time (didn't lose much money) and learned a great deal from Kevin Biller of The Powder Coating Research Group and Mike Dilday of Fanuc America Corporation. Many companies from a variety of industries including: aerospace, oil and gas, custom coaters, custom fabricators, construction equipment and ag equipment manufacturers, were present.
The day started with an introduction by IntelliFinishing's vice president, Doug Olipant, who explained the purpose of the annual Midwest Coating Seminar is to bring in subject matter experts to the Midwest. Doug said, "We travel to trade shows and conferences every year and recognize that our own manufacturing region of the country does not have many of these opportunities to learn about the latest in the powder coating and liquid coating industry. We bring them in to share their knowledge with our staff and others."
With all of the recent innovations with powder coating and robots used in the finishing industry, we provided a 10-minute introduction to the flexibility that an IntelliFinishing system has to offer. Process changes and product changes are easily adapted with our unique friction conveyor (power and free alternative) and smart controls with recipes for your variety of parts.

A video from an active powder coating system job site was also provided, www.intellifinishing.com/construction. Kevin Howe, IntelliFinishing's project manager, gave a brief tour of the progress and discussed how the customer was implementing the project in phases. The first phase features some manual pull sections, with most of the system automated. A second phase will later be implemented with more automation and the addition of an automated wash system as their production increases. Since our conveyor has no chain, additions and modifications can be accomplished without affecting production.
Even though Doug warned the audience they would be stuck for hours listening to the commercial, like they do in the timeshare industry, Kevin Biller, from The Powder Coating Research Group, was introduced after the short 15-minute introduction.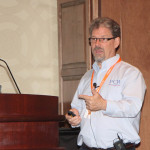 Kevin Biller's presentations, "Introduction to Powder Coating Technology" and "Recent Innovations in Powder Coatings Technology", followed Kevin's philosophy of formulating – Simplicity + Quality. Kevin's presentations were easy to understand (even if your last chemistry class was in high school and they only thing you learned there was how excited your chemistry teacher became when you figured out alcohol was flammable).
We look forward to hosting another seminar and if you would like to receive notification of our next one, click on SUBSCRIBE.
"Introduction to Powder Coating"
In the "Introduction to Powder Coating Technology", Kevin provided an exciting announcement about a new company, Matrix Powder Coatings, formed in partnership with Ernie Green Industries (EGI). Matrix Powder Coatings produces and supplies unique custom powder coating technology. Matrix Powder Coatings is a game changing, revolutionary, high tech powder coating manufacturer and supplier specializing in low temperature and UV curable powders for non-traditional substrates, high heat resistant coatings, dead mattes and powders for extreme environments. (Link to press release or visit July/August edition of Powder Coated Tough )
During the "Introduction to Powder Coating Technology", Kevin explained powder coating's value proposition as the following: neat, cleaner for the environment, energy saving, high quality, efficient and economical. He then went on to explain the features and application uses of the powder coating technologies, including:
Epoxies – used as functional and primers

Epoxy Polyester (Hybrid) – used for interior and general purpose applications, e.g. office furniture
Polyester – used in the architectural industry and for general purpose
Polyester Urethane – used for its higher toughness, e.g. lawn mowers
Acrylic-Diacid – used in the automotive industry
Acrylic Epoxy – used by appliance manufacturers
Acrylic Urethane – used by appliance manufacturers and architectural industry
Silicone – used for exhaust parts and grills
Fluoropolymer – used in the architectural industry
The main thing about working with powder coating formulations is to avoid band-aids and to start with the right stuff based on your product's requirements.
"Recent Innovations in Powder Coatings Technology"
Kevin opened this presentation with the powder coatings shortcomings like
Relatively high bake temperature (350 to 400

ºF)

Need substrate conductivity (electrostatic application)

Difficult color change
Film thickness
Kevin then went on to discuss the emerging technologies including:
Non-Chrome Alternatives using rare earth based primers, Cr+6, Cr+3, Zirconium

Smart Coatings – coatings that respond to environmental stimuli and change the nature of coating like superhydrophopic, thermal chronic, photocatalytic self-cleaning, anti microbial

In-Mold Coating – developed in 1990's for sinktops/shower stalls, rejuvenated in 2010

Low Temperature Cure- reducing oven temperatures by as much as 35%
The low temperature cure discussion included information about the latest in UV cure as well. Powder is applied electrostatically, melted at 212-248ºF, then cured with UV. An example was provided of the use of a robot to provide the UV cure. Members of the audience were excited about this development and could see the impact this innovation could have on manufacturing and assembly of their products.
Powder on plastic or other non-conductive substrates was also explained and its potential for revolutionizing the industry.
After lunch, Mike Dilday from Fanuc America Corporation demonstrated and presented the use of robots in the powder coating and liquid paint systems. During lunch, he shared videos of robots used in paint systems.
"Robotic Paint and Powder Coating"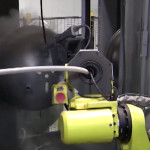 Robots have traditionally been used on liquid paint lines and recently, the number of robots used in powder coating is growing. Robot usage continues to increase due to demand for better quality, more flexibility and quicker return on investment due to decreases in robot prices. Robots also improve throughput, emissions compliance and are ergonomic.
Mike Dilday reviewed when to use robots.
High Articulation Requirements

High Material Cost – Minimize Waste

Two Shift Operations

Multiple Paint/Powder Settings for Control

Smart Reciprocator Alternative

Labor reallocation/high turnover

Safety and ergonomics


Minimize carpal tunnel syndrome occurrence
Remove sprayer from hazardous tasks
Another consideration of robots is as a reciprocator replacement. The benefits of a robot over a reciprocator include the following:
Line Tracking

Eliminates Tiger Stripping

Extra Articulation Capacity

Leading and Following Edge

Contour capability

Precise Triggering Capability

Material Reduction
Implementing robots can provide a high return on investment due to labor savings, material savings, reduced warranty claims, increased production and throughput. Customer requirements for implementing a robot in your paint system are one dedicated robot operator per shift, knowledge of managing the liquid or powder spray system (robot technical knowledge can be taught) and consistent part presentation (the most important aspect).
Related posts