How IntelliFinishing Shuttle Systems Address Unique Manufacturing Challenges
IntelliFinishing, 3 years ago
0
7 min

read
1876
Automated shuttle finishing systems using IntelliFinishing's unique friction tube conveyor can deliver considerable benefits to manufacturers with very specific needs that standard finishing systems can't handle. 
IntelliFinishing helped several companies recently solve their unique challenges in finishing by using friction tube shuttles within their total system to accommodate large heavy parts and to fit within small building footprints. 
Here are three examples that demonstrate the flexibility of the IntelliFinishing system using shuttles instead of large radius turns. 
Powder Coating of Outdoor LCDs Gets an Assist with a Shuttle System
IntelliFinishing recently installed a powder coating system featuring two shuttles for Manufacturing Resources International LG-MRI, manufacturers of outdoor liquid crystal display screens (LCDs) in Alpharetta, GA. They use their IntelliFinishing system to powder coat the frames, back panels, stands and other parts for their outdoor, high resolution, high tech, extremely weather-resistant, LCD advertising displays. Typically, components for these items are between eight and ten feet long, but some may extend to twenty feet in length for their largest options. While the parts are usually lightweight sheet steel, stainless steel, or aluminum, the system can support weights up to 1,000 lbs. per carrier – useful for the way MRI maximizes part density on their system.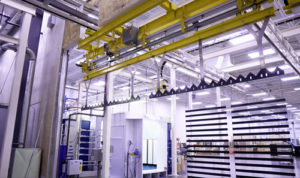 The MRI system features a 20-foot carrier and shuttle on the left-hand side of the system for transporting products from the load area, through an automatic and integrated sliding door into their unheated and uncooled added manufacturing space where automatic washing, dry-off and curing processes occur.
Parts on the carriers move through a multi-stage wash with recipe options that define the timing and pressure settings, then into a dry-off oven – also with variable timing options. 
Once dry, the parts move back into the main building and to their reciprocator equipped automatic powder spray booth. After coating, the parts are transported via a middle lane shuttle back out through another set of automated building doors to the added building and into one of their two final cure ovens on either side of the shuttle. Once cured, items then move from the ovens, via the same middle shuttle back through the automated doors to a buffer area where they can cool and finally again back to the shuttle to the load/unload lane. The load section of track also includes an integrated lift to make part handling easy and safe.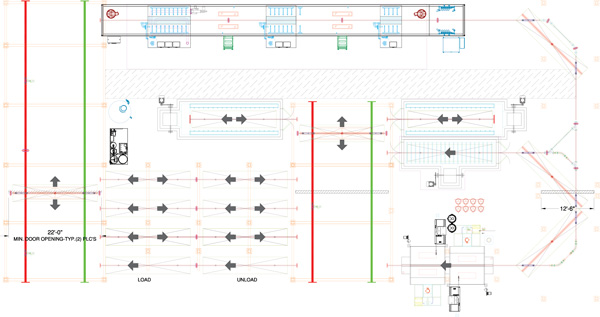 Not all of MRI's parts require finishing. They also use the system to just wash and dry metal parts that will be unfinished in the final assembled monitors. This greatly improves the overall quality of their sets by removing unwanted dust and oils – a process they used to do by hand.
Interestingly, MRI also uses their cure ovens, on occasion, to harden some of their aluminum parts – a process called precipitation. They simply load these parts, wash and dry them and then store them at desired temperature overnight in their cure ovens. Truly, a unique application demonstrating just how flexible their IntelliFinishing system is for them!
Helping a Forklift Company Manage Heavy Loads in Tight Space
Located in Springfield OH, this OEM manufactures forklift accessory equipment. The majority of their forklift accessories are twelve feet long or less but a few can be as long as 23 feet and weigh up to 5,000 lbs. With the complexity of the product dimensions and weight requirements along with a very small, under 10,000 square foot of space available (66' x 149') to work with, they needed a custom shuttle system to fit the space. They use their system to apply a liquid finish to their parts. Their system also features two shuttles to fit all sizes of parts they manufacture but with a twist.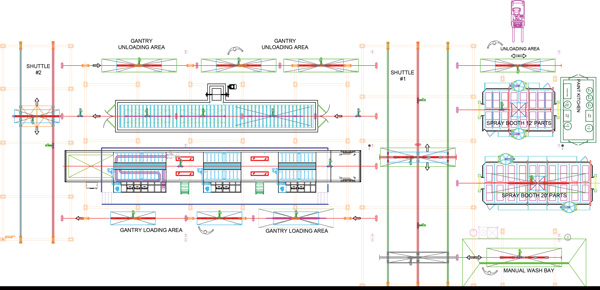 Depending on the size of the part, there are different flow paths through the system. This is caused because one of the two shuttles allows part only up to about half the size of the other shuttle. Since the majority of their parts are at or below 12-ft. in length, after being loaded in the loading lane, carriers proceed to the left onto a shuttle sized for up to 12-foot parts. This shuttle moves laterally from the loading lane to line up with the wash booth lane. From there the carrier can back up off the shuttle moving from left to right and go through a multi-stage automated wash booth lane. After wash, carriers flow onto a larger right side of the system shuttle and into one of their two liquid spray booths. After being coated, items back out of their respective booths and onto the larger shuttle again. The shuttle transports the parts laterally again up to the cure oven lane where they leave the shuttle and flow into the final cure oven. At this step, each carrier can have its own oven timing setting to maximize force cure quality, while eliminating chances of under or over curing products. Cure time is controlled by the system recipe selected at load per carrier. After curing, the carriers move once again to the first shuttle and laterally again up to the unload lane for final unload and the consequential return of the carrier via the large secondary shuttle back to the load area lane on the other side of the system.
For the products over 12 feet in length, the carrier path/flow is different. Larger items are loaded within a manual wash enclosure at the bottom right-hand side of the system. This wash area is to the right of the right-side, large-shuttle rather than in the usual middle lane loading area. The manual wash was installed to offer a wash option for their significantly larger but rarer big parts while keeping the size of the automated wash within the desired footprint. After the manual wash, the long parts are shuttled to the left onto the large shuttle and laterally into each piece of process equipment including transport to the longer of the two spray booth options they have available. After finish, long items still proceed by the large shuttle to the system centered force cure oven, except they don't flow all the way through the oven like the smaller parts do. They "park" just inside the oven for the required recipe time for these larger and thicker/heavier items – and then are sent backward to the large shuttle again before transport up to the unload lane for their final unloading. In other words, the large parts can still be processed but they never use the small left side shuttle and hence we were able to keep the system within the tight footprint available.
Load Trail's Dual Shuttle System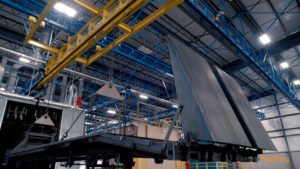 Load Trail had a significant challenge finishing its agricultural trailers. The trailers range in size from 24 to 53 feet in length and weigh up to 10,000 lbs. To help them solve the problem of powder coating these trailers and to streamline their finishing, we installed a dual shuttle system at their Sulphur Springs, Texas facility.
Their conveyorized system features nine load lanes that run above their nine weld cells, enabling trailers to load directly onto the system just above their final weld process. Trailers, from 24 to 53 feet in length are then transported directly onto a large primary shuttle to move them laterally to as well as in and back out of each process. 
As carriers transport trailers from the shuttle into each piece of process equipment and then backward back to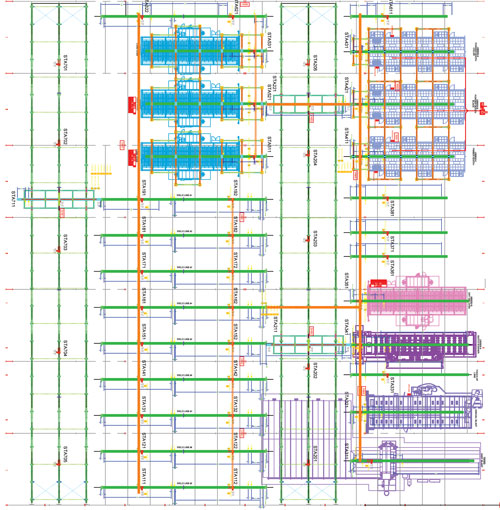 the shuttle, it allows for a massive system, but one that still saves space because it does not require any bulb turns or return sections of chain track. 
Processes on Load Trail's shuttle system include automatic and manual shot blast booths, automatic multi-stage cabinet wash booth, a dry-off oven, several final prep and quality control stations, prime and topcoat powder booths, multiple final cure ovens, dual unload stations on either side of the main shuttle, and a carrier return shuttle for the empties back to and above the original nine weld and loading cells.
IntelliFinishing: Creating One-of-a-Kind Solutions to Unique Problems
At IntelliFinishing, we take pride in providing the most flexible, modular, and trustworthy, custom automatic finishing systems that can address the unique finish, parts, and footprint needs of our customers.
If you're interested in seeing any of these shuttle systems to get an idea of how our solutions may benefit your operation, contact IntelliFinishing today to discuss a site tour (when conditions allow) or simply to learn more. Our number is 785-309-0356.
Related posts