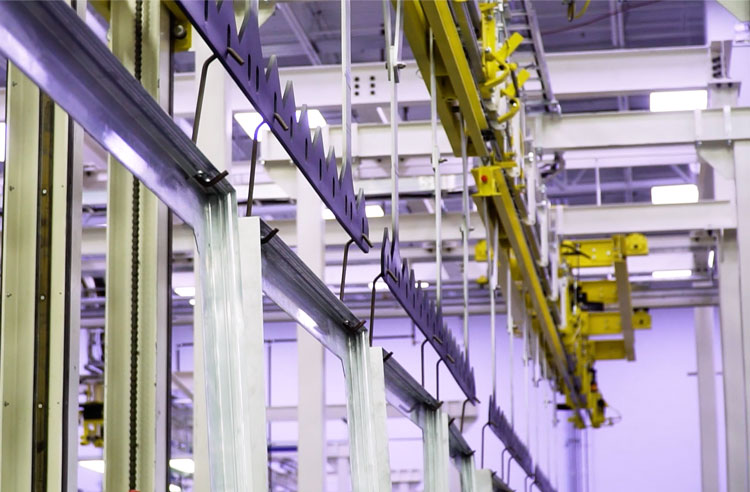 Case Study: Boost Flexibility, Quality and More with IntelliFinishing
IntelliFinishing, 3 years ago
0
4 min

read
1704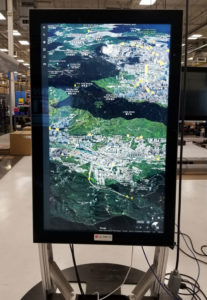 Manufacturing Resources International designs, engineers and fabricates BoldVu® LCD displays, maintaining the industry's largest install base of outdoor LCDs with deployments in over 50 cities around the globe.
However, MRI had one central challenge – the company's powder coating was outsourced, leading to critical inefficiencies.To solve this problem, MRI turned to IntelliFinishing, which provided an automated powder coating system for the company that elevated every aspect of MRI's operations.
The Challenge: Long Lead Times, Inconsistent Quality
Owner Bill Dunn said MRI's problem was a simple, yet weighty one.
Because the powder coating of critical parts for the company's LCD displays was outsourced, Dunn said wait times for parts to return to MRI's shop floor were becoming excessive, and the quality of the finished product wasn't consistent with the expectations of MRI's client base.
"I was looking for a way to take my powder coating in-house," Dunn said. "My clients have high quality standards, and we needed quicker turnaround. My vendors providing powder coating had a lot of quality issues, and it was taking at least four weeks for parts to return to our shop floor."
Another obstacle was the size of the parts MRI manufactures. Many total about eight feet in length, with some reaching up to 20 feet long.
Simply put, MRI needed a faster, more consistent finishing system, including capabilities for a powder coating line and paint conveyor line, that operated on a tight footprint capable of being integrated into their existing facility.
A Custom IntelliFinishing Solution
To meet MRI's unique needs, IntelliFinishing designed, engineered and built a high-quality automated finishing system with shuttle capabilities.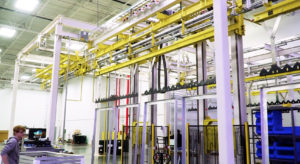 The system can handle parts up to twenty feet long by five feet wide by eight feet tall, and up to 800 pounds per loadbar.
This flexibility allows parts of all sizes to move through their three-stage wash, energy-efficient drying ovens, through a powder coating booth and into one of two cure ovens.
The system includes two shuttles, and each passes through system-integrated sliding doors to move from inside the main building into an adjacent space constructed for the wash and oven equipment.
To facilitate loading, MRI decided to add an integrated system lift. They are able to hang up to ten of their product frames, each in a horizontal position and suspended from one another to maximize part density. As each frame is attached, they lift the hung frames just a few inches and then attach the next frame. Once all frames are attached, the lift takes the whole set of parts to system height inline with the conveyor and then moves the set of frames to the first shuttle for transport to the wash lane on the other side of the system.
Not only does the system give MRI the finishing quality and volume capacities they were looking for, they also use the system to thoroughly clean and dry their critical non-finished parts. This was a process that was previously done by hand, thus saving a ton of labor and providing much more consistency and cleaner parts for their LCD screens.
Finally, MRI also uses their curing ovens on occasion to harden selected aluminum parts by cooking them overnight at high temperatures. This is called precipitation hardening.
A High-Performance System Ready to Boost Efficiency for Years to Come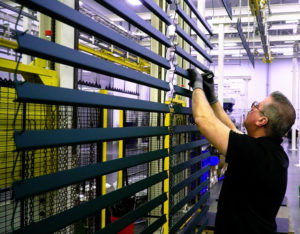 The addition of an IntelliFinishing system has brought a wide range of benefits to MRI's operation, including:
Consistent, high-quality finish on the frames, bases and backs of LCD displays that allows them to withstand harsh outdoor conditions for years
Elimination of traditional chain methods, allowing for each carrier to have its own finish recipe and path through the system
A system that takes up half the space of quoted alternative options with greatly increased process flexibility
Ability to process parts as needed on a day-by-day basis, keeping up with fabrication and assembly, thus providing JIT manufacturing
Near-total elimination of finishing-based rejects
"I looked at several traditional systems when I considered IntelliFinishing. Although IntelliFinishing's initial price was a little higher than the alternatives, when you consider it from a cost-per-square-foot basis, as well as for its ability to do far more than the other systems, it was actually the least costly for me, saving me a ton of room for other processes," Dunn said. (see Bill's complete thoughts on his IntelliFinishing system here)
"I use the IntelliFinishing system as a closer for when prospects for our LCD monitors come to look over our plant. Just like us, it's high tech and high quality."
Related posts