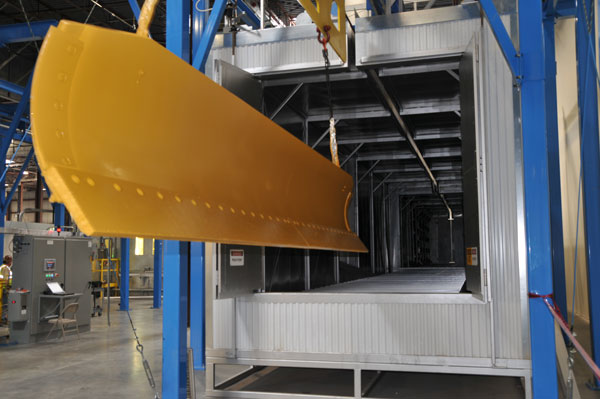 How IntelliFinishing Revolutionized Finishing Systems
IntelliFinishing, 2 months ago
0
3 min

read
0
Like many industry-leading company's creation story, IntelliFinishing— now a top-tier provider of custom finishing systems — was formed to remedy a serious issue for a major construction equipment brand, Caterpillar. In the late-2000s, Caterpillar encountered difficulties with their multiple chain-based finishing systems. Each was built for a very limited set of Caterpillar parts, and often struggled to keep pace with evolving paint and production specifications. Because of these limitations, Caterpillar was experiencing extensive periods of downtime to build new systems, often taking several years and requiring more plant footprint. These conditions were bottlenecking production, and decreasing efficiency and ROI.
Caterpillar knew there had to be a better way and sought a more adaptable and modular finishing system that could accommodate new products or processes without necessitating entirely new systems.
Caterpillar identified IntelliTrak's 500 and 1500 series friction-tube conveyors as promising solutions due to their ability to move carriers of parts at varying speeds per track section and their modular design. They then collaborated with Midwest Finishing Systems to incorporate their existing modular pretreatment washers and ovens. Caterpillar envisioned a finishing system that integrated the IntelliTrak conveyor and Midwest Finishing pre- and post-finishing equipment, but there was a catch… It would require a sophisticated and flexible process control system.
Kasa Controls and Automation Fills the Gap to Create a Nimble Finishing System
To create a control system that would allow each carrier to be assigned a unique recipe based on the products hung per carrier, Caterpillar enlisted the expertise of Kasa Controls and Automation. Known for their conveyance automation systems in the automotive industry, Kasa's recipe driven control system approach ensured that each carrier could have its own distinct set of pre-treatment steps, wash stages or pressures, dry times, and post-treatment steps. Between the smarter control system and the flexible conveyor with modular process equipment, a much wider assortment of parts could be finished with higher throughput on the same system. The systems could also be installed much quicker due to the modularity of the system.
Caterpillar filed approximately 19 patents while collaborating with the three companies to develop, among other things, an even more robust 3500 series conveyor, which could support the six ton weights required for the largest Caterpillar parts. The three vendors then constructed six total systems using the 3500 Series and one powder coating system using the 500 series conveyor for Caterpillar in 2008 to 2012. As these systems were being installed, Caterpillar offered each of the three vendors exclusive rights to market the technology and patents to other businesses in the finishing industry. The vendor team agreed to allow Kasa to market this technology and thus the DBA of "IntelliFinishing" was branded to represent the concept.
With their inaugural non-Caterpillar project for Raytheon, plus other installations for companies such as Hytrol, Greenheck Fans, Boeing, and others, IntelliFinishing expanded beyond their Caterpillar origins, offering custom finishing systems to a diverse array of companies across North America.
Continued Success and Partnerships
Today, IntelliFinishing maintains strong partnerships with Midwest Finishing Systems and IntelliTrak, providing custom finishing systems that include control panels and bespoke programming by Kasa Controls and Automation. Staying true to our commitment to system excellence, IntelliFinishing continues to support the systems installed for Caterpillar in 2008-2012. IntelliFinishing's inventive and adaptable approach to finishing systems has resulted in over two dozen installations for OEMs and Custom Coaters including for Altec, LoadTrail, Cascade, Hyster Yale, LG-MRI, and others.
If you're considering a new finishing system and need a flexible system that can handle a wide variety of parts or perhaps a system that may fit in a tighter space, or just want a system that is modular and can grow over time, discover why so many trust IntelliFinishing with their custom finishing systems and contact us today!
Related posts