Hyster-Yale System Update

Custom Automated Finishing System Exceeds Hyster-Yale Group's Expectations
In early 2020, Hyster-Yale Group (HYG) – the leading manufacturer of forklift trucks – entrusted IntelliFinishing to build a new powder coating finishing system with powder coating. The system was operational by November of 2020. A global company, HYG forklift trucks are used to handle robust materials in nearly all industries, and finding a finishing solution to meet increasing demand and efficieny, while decreasing downtime was imperative.
IntelliFinishing worked closely with HYG to design and build the perfect system that holds a high-volume capacity in a tight footprint with an infinite number of colors. The resulting solution includes a pre-treatment process – complete with a large shot blast, three-stage wash, and dry-off oven – automatic powder coat booths that leverage robots and reciprocators, manual touch up capabilities, and final cure ovens that offer a wide range of time and temperature options. With such a customized system, HYG has the ultimate flexibility while diminishing waste and providing the most superior finish quality.
However, don't take our word for it. Let's hear directly from HYG about how the solution is fulfilling – and surpassing – their needs nearly two years later.
Powder Coating System Provides More Than Just Finishing for HYG
Hyster-Yale Group has a goal similar to IntelliFinishing: "To create solutions that enable our customers to improve the overall efficiency and effectiveness of their businesses." Through building the best lift trucks possible, HYG commits to industry innovation, and partnering with IntelliFinishing to create a state-of-the-art powder coat automation system is just one example of their commitment to that excellence.
HYG's Value Stream Manager, Anthony Wasson, and Manufacturing Engineer III, Shawn Wasson, often reflect on making the "right choice" with IntelliFinishing, noting the clear advantages gained once the system was installed – even surpassing their expectations to this day.
Unlike a power and free system, HYG now enjoys the friction tube conveyance's automation capabilities, low maintenance qualities and low noise levels. Utilizing certain recipes within the system, part routing from load to unload is automatic and easy. "IntelliFinishing's integration was seamless with this conveyer system," Shawn Wasson explained. "Approaching two years later, everything continues to work perfectly, proving the system design and controls are robust."
The Unexpected Benefits of Using an IntelliFinishing System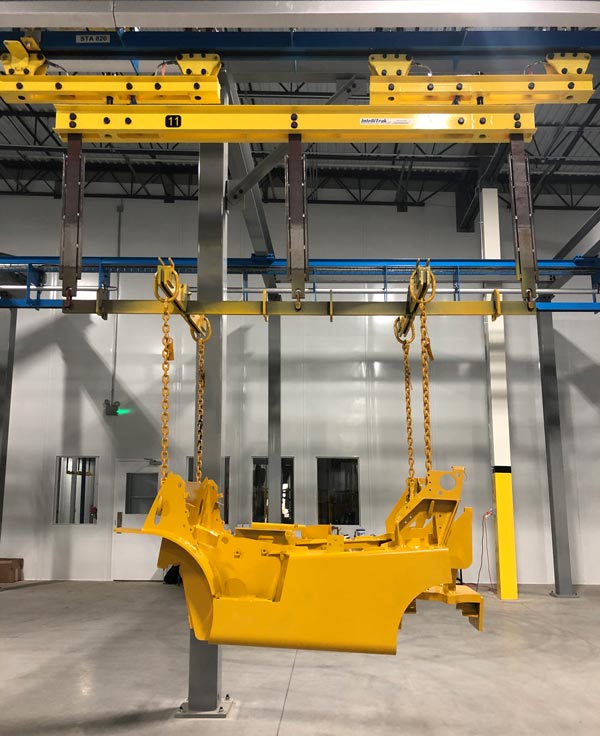 While the system working seamlessly is of no surprise, they were ecstatic to realize that with a high-functioning robotic process comes many additional advantages, like improved speed and accuracy. This is seen not only in the production line, but also with the robotic powder application where the team is able to make on-demand adjustments to the program to fulfill specific needs. "Looking back, we see many obstacles that would have occurred if we had chosen a power and free system," Anthony Wasson said.
In fact, because of this efficiency improvement, HYG has experienced no system-related downtime since the new solution has been in production. While there has been one incident of premature failure of two motor/gearbox combinations on the conveyer system – which was covered by warranty –these parts took no more than one hour to replace because of the system's simplicity, and production continued in all other areas.
Coming up on two years, HYG is also seeing the payoff on their utility bills – even after building on a fabrication and assembly addition to their plant and still using their second paint system. "Both our electricity and gas usage has decreased when comparing year over year," Anthony Wasson exclaimed. "Specifically, gas decreased 20% and electricity 7%, and those numbers are expected to drop even more once the second paint system is decommissioned."
A System That Inspires Endless Opportunities
Clearly, IntelliFinishing's custom automation finishing systems provide many direct benefits to companies who choose to invest in efficiency and long-term cost savings. For HYG, they are seeing even more return by utilizing the current system for inspiration and business growth opportunities.
With the Ignition SCADA software – a solution that collects and processes performance and operational data – in the finishing system, HYG now also plans to utilize Ignition in other areas within their plant, ultimately helping to reduce additional waste through continuous improvement.
These added improvements to the overall business will be essential once HYG is operating at full capacity. Because they designed the system with the future in mind, as business continues to grow, the system will be able to handle the increased throughput. Additionally, should the production needs change and additions or changes to the system are required, HYG will be able to easily incorporate those needs into the existing system with minimal downtime and disruption, because that's how IntelliFinishing designs its systems: with the customer in mind.
The possibilities don't stop there either. HYG has led many facility tours for senior leadership, dealers, customers, and prospects to show off their new production and finishing technology. This smart marketing tactic has helped to create excitement and knowledge around HYG, further driving their business growth goal. "Investing in this type of system confirms with these groups that we are leaders in the industry," Anthony Wasson explained. "Dealers and customers get excited to see the process and automation; those experiences are then shared within their organizations, and that drives demand for our product."
Clearly, HYG partnering with IntelliFinishing for their powder coat solution was an undeniable success. Confident in their choice, the Shawn Wasson boasted, "Looking back at the other systems that were being considered, it is rewarding to realize that we made the correct decision for the growth of our business."
IntelliFinishing – The Most Flexible Paint Systems in the Industry
At IntelliFinishing, we love to hear these success stories because we strive to be the best in the industry so our customers can perform at their best. With over 14 years of experience in finishing and coating, we create automated/conveyorized finishing systems unlike any others – and we always deliver on our promises.
To learn how IntelliFinishing can design and build an automated industrial finishing system with proven technology to address your unique operational challenges and goals, contact us today!