Does Line Speed Limit Your Powder Coating or Liquid Paint System?
Most paint systems are designed using a fixed line speed to convey parts between and through process equipment. For systems using monorail conveyors, the line speed is the same for the whole system. For systems using power and free conveyors with multiple drives, different sections of the system may be designed with various speeds through sections. Unfortunately, change happens. Has your production rate changed or your part variety mix increased?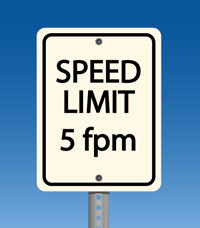 What if the line speed of your paint system were able to change? When you choose IntelliFinishing YOU ARE NOT LIMITED by line speed. Each of your carriers may have its own recipe based on the part group. With this feature, your system could have a great deal of flexibility. (See article in Powder Coated Tough  about a custom fabractor with tremendous part variety.) For example, some of our customers have experienced:
Increased throughput compared to traditional systems (23% or more)
Decreased bottlenecks with cure times specific to each carrier instead of curing every part for the time required by the thickest part
Reduced overbake and underbake issues due to variable cure time recipes 
Improved quality with specific speeds through equipment like pre-treatment or blast
Assured consistency by using the same recipes stored from historical data
Recipe options with an IntelliFinishing system are nearly unlimited and are based on part families loaded on each carrier.
Teamed up with dual-lane cure ovens, time spent in the cure oven varies based on the parts on the carrier and the recipe. If you have a variety of part sizes, substrate or thickness, an IntelliFinishing system will improve quality and throughput.
Varying speeds through a process like blast, provides flexibility and improves the quality of the finished part. In addition, an IntelliFinishing system can also oscillate a carrier. 
With recipes, operators process parts in a consistent manner. In this video, our customer explains how they are able to ensure consistency by searching for a past order to use the same recipe used the last time similar or same parts were processed.
Moving carriers quickly through areas where no processing is required or at the end of the day also reduces wait time.