IntelliFinishing vs Traditional Conveyor Systems
Tired of having a paint finishing system that can't be customized to suit your needs? IntelliFinishing offers you a flexible solution that is anything but traditional. 
The technology that makes IntelliFinishing revolutionary is its unique conveyor system, smart controls and flexible design. Our conveyor technology allows parts to move both forward and backward within the system to maximize efficiency and minimize floor space. The control system allows you to input unique recipes for each part family and reduce chemical waste and energy usage by turning off the modules and conveyor when they are not in use. Not to mention, complete system setup results in a 30% smaller footprint. 
An IntelliFinishing system installs in half the time of traditional monument systems. All IntelliFinishing modules and components are built and prepared off-site and delivered in whole pieces, so whether we're replacing your old system or building a new one, the install will be completed in a minimal amount of time, getting your business up and running as quickly as possible.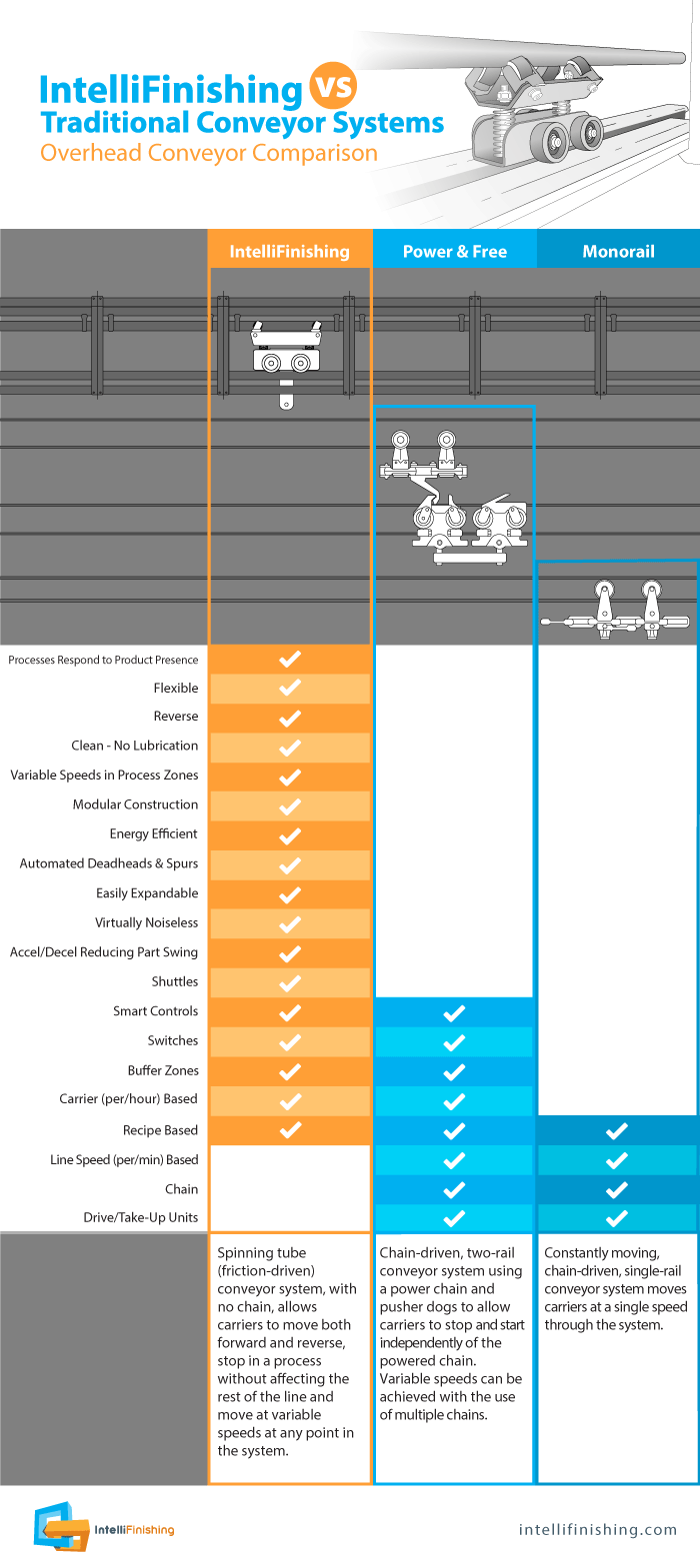 Benefits of an IntelliFinishing Turnkey Finishing System
No Chain
No chain? That's right, no chain, which means an overall smaller footprint, the ability to reverse and no messy lubricant dripping on your parts or collecting dust. 
Smart Controls
Smart controls allow for variable speeds and independently controlled zones for different recipes plus the ability to monitor and track parts at any point in the system.
Switches
IntelliFinishing switches provide layout options just like a Power and Free system. Additionally a switch can be used to deadhead providing even more layout processing options.
Virtually Noiseless
One of our customer's finishing systems is less than 75dB resulting in the removal of employees from a hearing conservation program. No chain means no dogs or buffer zones which in turn means no metal carriers crashing into each other further reducing noise. 
Accelerate/Decelerate
Part sway is a thing of the past with variable frequency drives (VFD) controlling the conveyor's motion.
No Return Chain
No extra space is needed for a return chain allowing for a significant decrease in overall floorspace. 
No Drive and No Take-up
Minimal maintenance because there is no chain. Reduction in facility space because drives and take-ups are not required with IntelliFinishing.
Shuttles
A 43% reduction in floorspace was achieved for a large parts manufacturer with the use of shuttles. Shuttles provide tremendous flexibility.
Easily Expandable
The modular design of an IntelliFinishing system allows for an easily expandable floor plan. As your production levels change, additional processes or applications can be installed quickly. 
Not Continuously Running
With an IntelliFinishing system the conveyor runs when the carrier is present. Additionally, the supporting process equipment, like a washer, only runs when a part is present.