Endless Layout Possibilities for Complete Paint Systems
IntelliFinishing can provide layout options for powder coating and liquid coating no other industrial paint systems can provide. This is possible because we take full advantage of our chainless, friction-driven conveyor system's forward and backward ability. With our smart controls we can stop parts in a process for extra dwell time and move your load bars at variable speeds at any point in the system.
We've even installed an IntelliFinishing complete paint system in a facility where the customer was told no paint system would fit. 
Learn about three of our projects below:
---
Project 1:  Industrial Fan Manufacturer
| | |
| --- | --- |
| Carrier Weight:  | 3,500 lbs. |
| Cost: | $1.5-2 million  |
| Type: | Powder |
This customer used a phased approach and took advantage of IntelliFinishing's Lean techniques.  
As production increased, the second and third phases were installed to increase capacity and to automate the wash process, while keeping the manual system for oversized parts. The phased approach allowed the company to delay the spending of approximately $2 million.
This system is flexible for changing processes and production volumes. Future expansion to point of use – from fabrication directly to finishing to shipping – reducing motion and transportation waste. 
Phase 1
Phase 2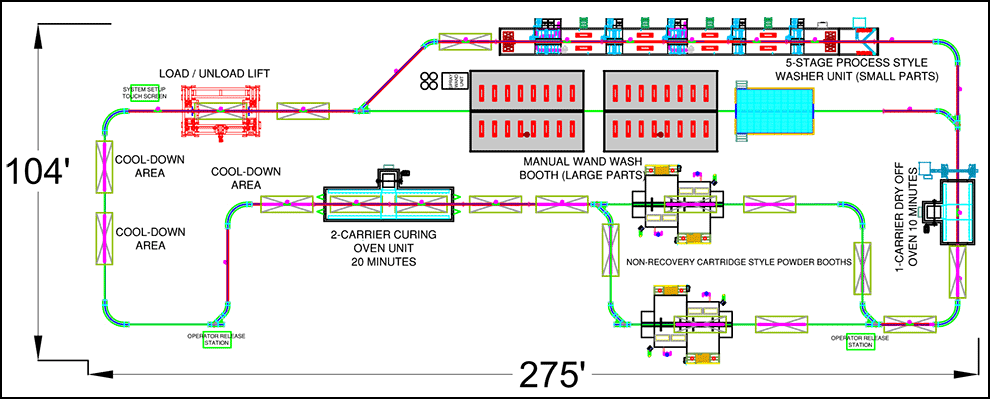 Phase 3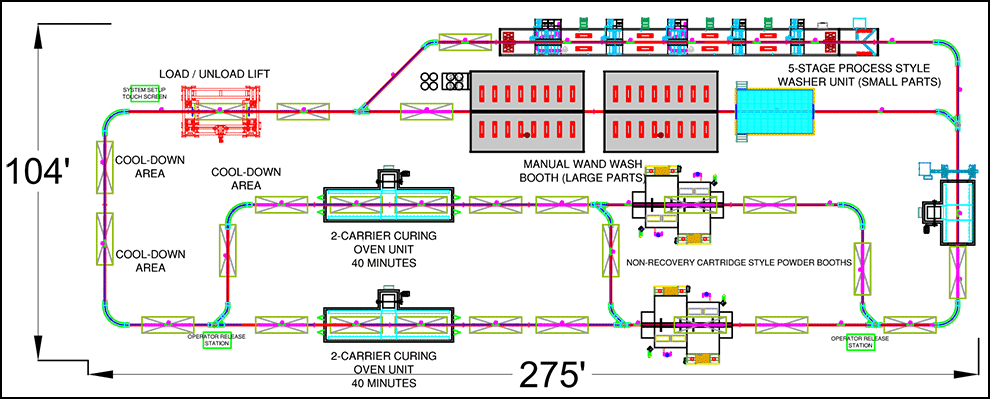 ---
---
Project 2:  Aerospace/Defense
| | |
| --- | --- |
| Carrier Weight:  | 750 lbs. |
| Cost: | $1-1.5 million  |
| Type: | Liquid |
We designed this liquid paint system to fit an existing space. The customer did not wish to construct a new building and before discovering IntelliFinishing, they were told no paint system would fit. We were able to design a layout with a smaller footprint using deadheads into the washer to fit the customer's existing space.
Customer specifications for this system included CARC (Chemical Agent Resistant Coating) routing and data tracking. The customer is using our smart controls for parts tracking and data logging. With these two features, employees can ensure all specifications are met throughout each process and can locate any part at any point in the paint system.
Additional benefits include a lift for safe loading and unloading of parts, reduced energy consumption and a quiet system – less than 75 decibels. The quieter system allowed this customer to remove 25 employees from a hearing conservation program. 
Layout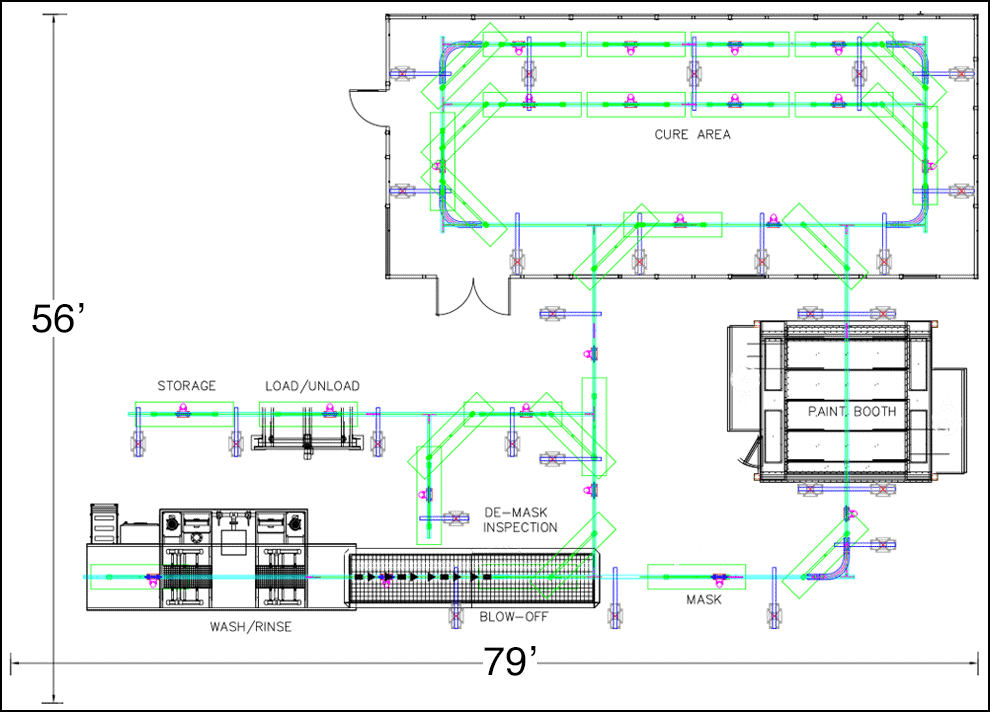 ---
Project 3:  Construction Large Equipment Manufacturer
| | |
| --- | --- |
| Carrier Weight:  | 10,000 lbs. |
| Cost: | $3-3.5 million  |
| Type: | Liquid |
This project required the constuction of a new building. By choosing IntelliFinishing for their new liquid paint finishing system, the new building was reduced from 40,400 st. ft. to 17,400 sq. ft. – a reduction of 43%. This reduction was achieved by eliminating the large bulb turns required by chain conveyors systems. Instead, IntelliFinishing uses shuttles to move parts, taking up a much smaller floorspace area than traditional paint systems. 
Layout Comparison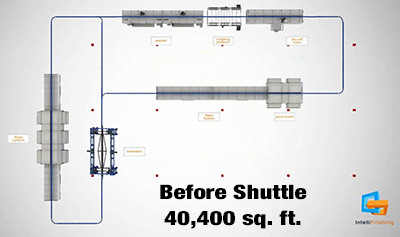 Final Layout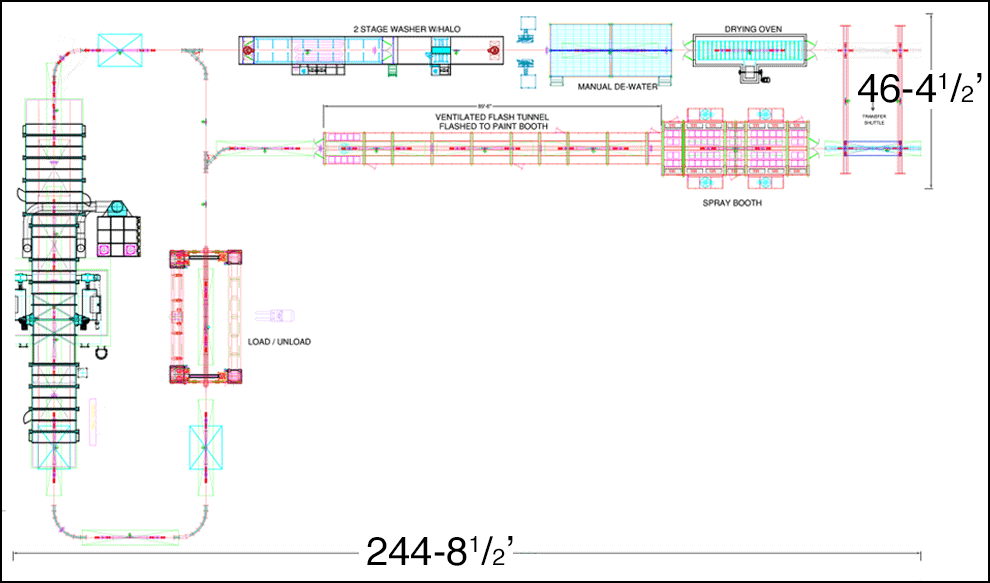 ---

Construction